It's been three years since Kubernetes was first released in 2014. Now 2017 is coming to an end, we were wondering: How did the Kubernetes project and the use of Kubernetes develop last year? We scoured the web for the most compelling news, surveys and statistics. Enjoy!
Top Kubernetes news 2017
So what were the biggest milestones in Kubernetes-world this year? We took a look at the Kubernetes Twitter channel, and made a recap of the most important news announcements.

*Note: All images are copied tweets from the official Kubernetes Twitter channel, owned by Kubernetes.
Surveys show Kubernetes is the king among orchestration tools in 2017
Statements like "Kubernetes is taking over container orchestration" seem to float around like leaves in autum. We were wondering: What are the numbers in practice? We searched the web for surveys, and concluded Kubernetes indeed is the most popular orchestration tool:
The Cloud Native Computing Foundation, did research on the topic of cloud management platforms over the course of two years, in conjunction with CloudNativeCon and KubeCon Europe. Kubernetes outnumber by far all other tools:
In the same survey, they also asked respondants about the use of Kubernetes in different stages of the development process:
* Cloud Native Computing Foundation in conjunction with CloudNativeCon + KubeCon Europe
Source: https://www.cncf.io/blog/2017/06/28/survey-shows-kubernetes-leading-orchestration-platform/
Other surveys seem to confirm their findings that Kubernetes is market leader when it comes to orchestration tools. According to a 451 Research study, Kubernetes is taking over container orchestration. 71 Percent of the survey respondents said they were using Kubernetes. Others surveys show similar results:

2017 Annual Container Adoption Survey
By Portworx. Source: https://portworx.com/2017-container-adoption-survey/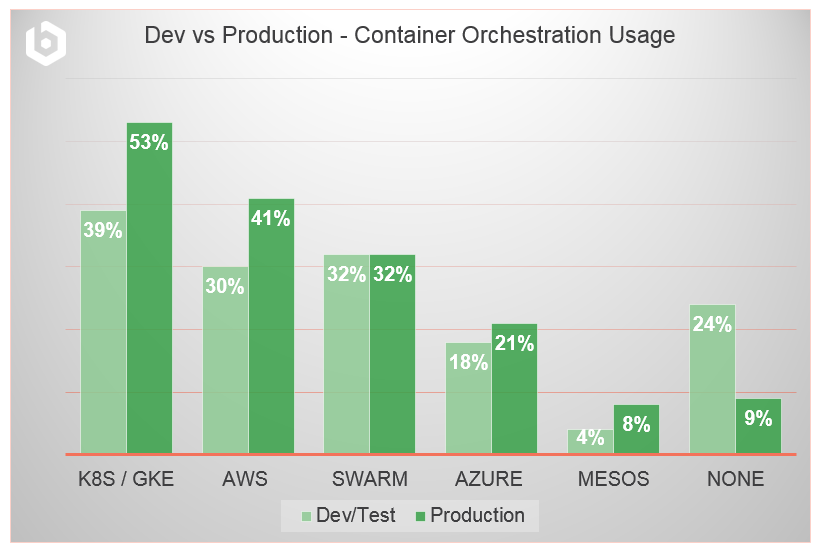 Bitnami user survey 2017
Source: http://blog.bitnami.com/2017/08/container-trends-part2.html
The 2017 Docker Usage Report.
By Sysdig. Source: https://sysdig.com/blog/sysdig-docker-usage-report-2017/
Before we dig into other stats, let's have a look at the public prediction about orchestration tools in the future. rUv posted a Twitter poll on the occasion of DockerCon 2017. It seems that the respondents are confident that Kubernetes is here to stay.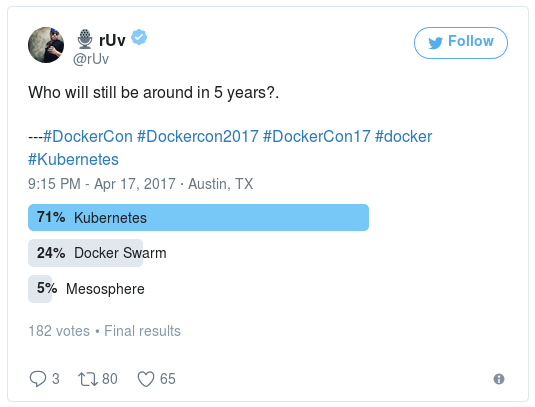 Twitter Poll, by rUv. Source: https://twitter.com/rUv
More Kubernetes stats 2017
Although the survey data discussed before is a little inconsistent, since they use different methodologies and only present a small sample set of users, other resources confirm that Kubernetes indeed is very popular. It's been adopted by major enterprises like Ebay, Samsung and Philips and is ranked as one of the most active open source projects . According to Google trends, Kubernetes is a popular search term and it shows a significant increase over the years, compared to Docker Swarm and Mesos.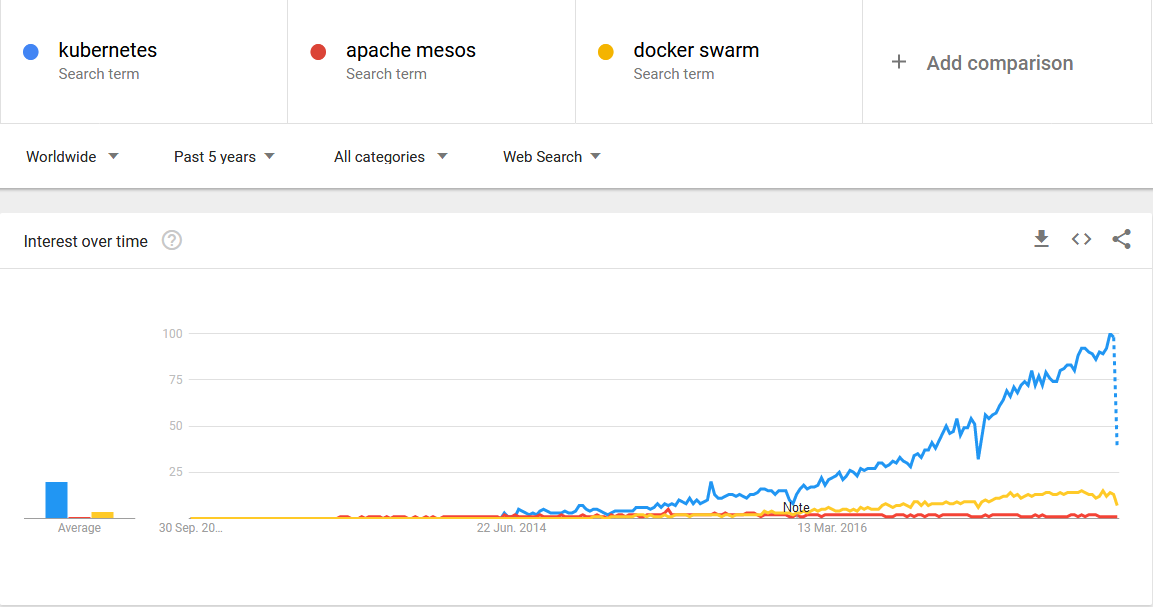 Github Stats

The number of comments on the Kubernetes repository during 2017, make Kubernetes the most-discussed repository on GitHub. Kubernetes is also the second-most reviewed project in 2017. The community and support are amazing, making Kubernetes one of the biggest success stories in open source history . Today, December 20th, the Kubernetes project has 59.429 commits, 30.270 stars and 1501 contributors.
Sources: https://octoverse.github.com/ and https://github.com/kubernetes/kubernetes.
About Kumina
Kumina has been providing managed IT infrastructures based on open source technology since 2007. Over the last few years, we have helped several customers with their transition to a Kubernetes setup. In addition to creating and managing production-ready Kubernetes solutions, we also provide consultancy and training courses to help companies get the most out of Kubernetes.
Tags: kubernetes, stastics, surveys